10 Experiences to Make You Feel Like an Adrenaline Junkie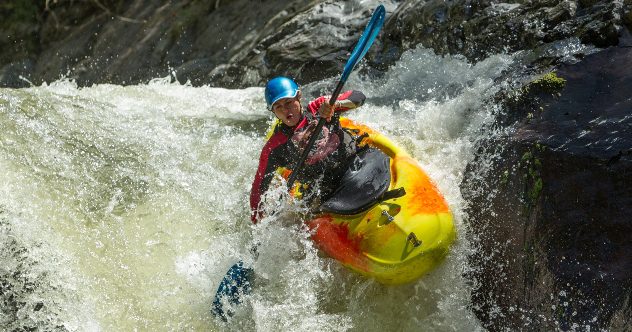 Most people enjoy vacations at the beach, where they can lounge in the sun with a cocktail or two. Perhaps they choose to take a cruise or explore some of the trails in a national park. But for adrenaline junkies, a simple Airbnb vacation probably won't be enough to satisfy the need for adventure. Adrenaline junkies often find themselves in extraordinary places doing the craziest things and making incredible memories. They crave activities that make them feel fearful, excited, and emotionally charged.
So what can you do to feel like an adrenaline junkie? If you love creativity, are impulsive and curious, are up for challenges, are flexible to change, and love spontaneity, then these activities might be for you! Here are ten experiences to make you feel like an adrenaline junkie that aren't too over the top.
Related: Top 10 Adventures Too Extreme For Bear Grylls
10

scuba diving

The underwater environment is rich in animals, plants, and minerals. Scuba diving allows you to dive underwater using breathing equipment. But first, you need to choose your preferred diving destination, from tropical seas to caves and cold water locations around the world.

Divers can explore a world where very few have the opportunity. Adrenaline junkies enjoy delving into this realm of mystery and discovery. While it can take time to train and become certified in scuba diving, the benefits outweigh the price and length of training.

The best places for diving
Galapagos Islands, Ecuador: These dive sites are rich in marine life, consist of large types of species and volcanic areas. During the cold season, there are spectacular sites of penguins diving in the water. Here, you can also see kicker rock, angelfish, iguanas, and sea lions.
Raja Ampat, Indonesia: The site is full of amazing diversity. You can see manta rays and snorkel between islands at The Passage.
Dumaguete, Philippines – Home to huge schools of fish, manta rays, whale sharks, pristine coral reefs, and lush coral gardens.
Red Sea, Indian Ocean: The best time to enjoy diving is spring, when the waters are warm. During the fall, you can see manta rays in Sudan and sharks swimming in Egyptian and Sudanese waters. The places to dive are Sharm El Sheikh and Ras Mohammed National Park.
9

Zorbing

A zorb is a large inflatable ball. This may not be popular with most people, but for this activity, you'll climb inside the zorb and then roll down a slope or body of water. After releasing the zorb onto a slope or hill, you'll find yourself screaming, yelling, and screaming at the top of your lungs. The rides usually last about a minute.
Zorbing Harness: You are strapped into a harness inside the zorb.
Aqua or hydro zorbing: There is water inside the zorb so you can slide inside.
Soccer Zorb: Only the head and torso fit inside the zorb, so you can move your legs and run.
The best places for Zorbing
Ikawa Park X in Miyoshi, Japan
Canada Olympic Park in Calgary, Canada
Outdoor gravity park in Pigeon Forge, Tennessee
Rotorua, New Zealand
Zorbinganlange, Germany
8

Surf

Surfing is a must for adrenaline junkies – there's nothing like feeling the wind on your face while riding a wave. Surfing requires you to ride the wave while lying down or standing on a board. The best times to surf are early in the morning and early at night. Various surfing activities include windsurfing, kitesurfing, skimboarding, wakeboarding, and wave surfing.

Wave surfing involves a lot of swimming and paddling while dragging your board in and out of the water. It can take years of practice to surf like a pro, while beginners require patience and a good teacher. Wave surfing involves a lot of upper body work as you have to pull yourself up to a standing position on the board when a wave hits.

Kitesurfing/windsurfing will require you to use wind power with a large kite to navigate through the water or sky.

Wakeboarding is an exciting activity that requires you to ride a short board while holding on to a rope attached to a boat.

The best places to surf
The coast of Oaxaca in Mexico
Tamarindo Beach in Costa Rica
Weligama, Sri Lanka
Imsouane, Morocco
Supertubos beach in Peniche, Portugal
Raglan, New Zealand
Bregenz Hechtweg, Austria
Pantai Batu Mejan (Eco Beach) in Bali
North Shore on Oahu, Hawaii
7

coasteering

Coasteering will require you to explore stretches of rocky coastline in order to feel part of the coast. You can do coasteering all year round, although if you go in winter, you will need a wetsuit.

Coasteering activities include walking, rock climbing, rock jumping into the sea, and swimming through ravines. Helmets and life jackets are required to ensure your safety.

The best places to practice coasteering
crest, greece
Gower, Wales
The Wild Atlantic Way, Ireland
Flat Island, Spain
Canary islands spain
6

sandboarding

Sandboarding is a sport that is practiced in sand dunes. You can sandboard in the desert or on the beach, depending on your experience and ability. Desert sandboarding is more demanding due to the high and steep desert dunes, while beach sandboarding is less demanding and requires a board similar to a snowboard but with a thicker base.

You'll also want to make sure you bring shoes, a helmet, a bandana, and goggles.

The best places to go sandboarding
Huacachina desert in Peru
The Sahara desert in Egypt
Cape Town, South Africa
Oregon Pacific Coast, USA
New South Wales, Australia
Te Paki sand dunes in New Zealand
5

Ski and Snowboard

These sports are exciting! Like surfing, they combine speed with balance, using snow instead of water. The feeling of weightlessness and flying through the air can be addictive. While it can take a bit of work to master, these sports are worth learning.

There are different styles to switch things up and make skiing and snowboarding more fun and exciting! Ski styles include military, freestyle, alpine, and Nordic. Snowboarding styles include free carve, freeride, dry slope, jibbing, rail riding, and freestyle. Shake things up if you've already conquered the rabbit tracks by trying a backcountry or backcountry adventure. Or what about night skiing? It's sure to get your heart pumping.

The best places to practice snowboarding and skiing
Lake Louise ski resort in Canada
Crested Butte Mountain Resort in Colorado
valley of the sun, idaho
Verbier, Switzerland
Breckenridge, Colorado
4

Shark Cage Diving

Cue the music of Jaws! Shark cage diving is when you go underwater in a special floating cage constructed of strong metals that will allow you to encounter the best and most fearsome sharks in the ocean up close.

To add to the excitement of being in shark-infested waters, the cages are placed in water that has been baited to attract sharks.

If you find cage diving too much, you can opt to swim with a gentler species: the whale shark. Since these creatures can grow to almost 40 feet (12 meters), it can still be a unique experience. For this one, you can travel to Isla Mujeres in Mexico.

The best places to dive in cages with sharks
Tiger Beach in the Bahamas
Port Lincoln, Australia
Mossel Bay and Gansbaai in South Africa
Bluff, New Zealand
Guadalupe Island, Mexico
3

whitewater rafting

Whitewater rafting is a popular and exciting water sport that you must try! You move through a river with strong currents using an inflatable raft and oars to navigate the waters. This activity is ideal for team building and family bonding outdoors.

The equipment required for this activity includes a life jacket, the raft, emergency supplies, a hat, a safety whistle, gloves, bathing suit, and additional clothing. Many choose to travel with a guide to ensure their safety.

The best places for whitewater rafting
Upper Seti River in Nepal
Jacques-Cartier River in Canada
Tena, Maca and Puyo in Ecuador
The Futaleufu River in Chile
Grand Canyon, Arizona, United States
2

bungee jumping

Bungee jumping is when you jump headfirst from a tall structure with the support of an elastic rope attached to your feet. The tall structure can be a helicopter, a bridge, a crane, or a building. Bungee jumping is for all ages.

When you bungee jump, you wear a harness and bungee cord to make sure you stay safe. All you have to do is enjoy. However, it can be dangerous for people who are overweight, pregnant women, and people with blood pressure problems. The most appropriate time of year to enjoy bungee jumping is during the summer season.

The best places to do bungee jumping
Europe bridge in Austria
Bloukrans Bridge in South Africa
Macau Tower in China
Victoria Falls Bridge in Zimbabwe
Verzasca Dam in Switzerland
1

tandem skydiving

If you are adventurous and want to experience jumping from a moving plane, this is your sport. Tandem skydiving requires no training, and novices will need a professional skydiving instructor. Tandem skydiving has no age limit except in the United States where the age limit is 18 years. However, it would be better if you were flexible and in good health. You must wear light clothing such as tennis, T-shirt and shorts. Make sure your hair is tied back and out of the way!

In tandem skydiving, you jump from approximately 13,100 feet (4,000 meters) from an airplane, helicopter, or plane with a parachute on your back. You last between 40 seconds and a minute in the open air before hitting the ground, but you live to enjoy the moment.

The best places for tandem skydiving
Oahu, Hawaii
Grand Rush Adventures in Swakopmund, Namibia
Swiss Alps in Switzerland
Santa Barbara, California
Taupo, New Zealand
#Experiences #Feel #Adrenaline #Junkie